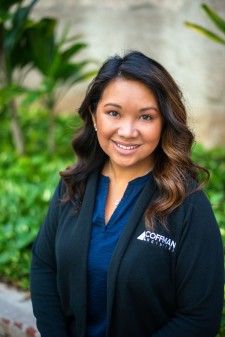 ALEXANDRIA, Va., March 29, 2019 (Newswire.com) - Coffman Engineers, Inc. (Coffman) and the Society of American Military Engineers (SAME) are pleased to announce that Ilana Almquist has been selected to participate in the 2019-2020 class of the SAME Leader Development Program (LDP). A total of 18 individuals from across SAME were chosen for this professional development program. We would like to congratulate Ilana Almquist for being selected to be part of the inaugural LDP class.
Ilana Almquist is the marketing coordinator for Coffman's Honolulu and Guam offices. She supports business development, marketing, and proposal efforts for both office locations while maintaining active involvement in SAME and other professional industry organizations.
"We are proud of Ilana and the opportunity to be part of SAME's inaugural Leader Development Program class," said John Thielst, Vice President, Honolulu/Guam Managing Principal, Coffman Engineers. "Ilana has been instrumental in pursuing opportunities and making connections throughout the Pacific Region and we're excited to see her pursue professional and personal growth in this program."
Developed with support from the SAME Foundation, LDP identifies and cultivates talent from within SAME's membership to address the nation's grand challenges. The program supports the development of the next generation of world-class military, government, and industry leaders for the Society and our nation through a curriculum of hands-on training, study, and active engagement in new opportunities. Participants will explore individual strengths, team dynamics, and discover their potential personally and professionally. LDP is a yearlong commitment beginning at the Joint Engineer Training Conference (JETC) 2019 to be held in Tampa, Fla., May 7-9. The graduation of the first class will be held at the 2020 JETC in Washington D.C.
The full 2019-2020 LDP Inaugural Class includes:
Ilana Almquist, Coffman Engineers Inc. (Pacific Region)
Holly Bigelow, P.E., Wood (Europe Region)
Maj. Craig Bryant, USA, Fort Hood, Texas (TEXOMA Region)
Maj. Mark DeSouza, P.E., USAR, Thomas & Hutton (Carolinas Region)
Angela Gomez, KOMAN Construction LLC (Southwest Region)
Patricia Graham, EnSafe Inc. (New England Region)
Lt. Mike Guaigua, P.E., CEC, USN, NAVFAC EURAFSWA (International Committee)
Erin Krug, P.E., USACE St. Paul District (Great Lakes Region)
Sean Lebel, P.E., AECOM (Mid-Atlantic Region)
Lt. Cdr. Samuel Lee, P.E., CEC, USN, University of Washington (Northwest Region)
Melissa Lewis, Scott AFB, Ill. (Missouri River Region)
Capt. Brendan Maestas, USAF, Air Force Institute of Technology (Ohio Valley Region)
Benjamin Nichols, Harkins Builders Inc. (North Atlantic Region)
Zakary Payne, P.E., Matrix Design Group (Rocky Mountain Region)
Claudia Penny, HCR Construction Inc. (South Atlantic Region)
Jorge Rodriguez, P.E., M.S. Hatch Consulting (California Region)
Mary Ruiz, Quaternary Resource Investigations (Lower Mississippi)
Stephen Shattuck, formerly with LandMark Engineering and Land Planning Inc. (South Central Region)
For more information on SAME's Leader Development Program, visit www.same.org/ldp.
###
Founded in 1920, SAME through its 28,000 members leads collaborative efforts to identify and resolve national security infrastructure-related challenges. With a National Office in Alexandria, Va., and over 100 local Posts and Field Chapters around the world, the Society unites military, public, private and academic sector individuals and organizations from across the architecture, engineering, construction, environmental and facility management, cyber security, and contracting disciplines.
About Coffman Engineers
Coffman Engineers is celebrating 40 years of providing clients with multidiscipline engineering solutions. Our services include civil, structural, mechanical, electrical, fire protection, commissioning, process piping, instrumentation and controls, corrosion control, alternative and renewable energy, and land surveying. Coffman's 480 employees serve clients across the U.S. and overseas from offices in Anchorage, Alaska; Atlanta, Georgia; Bay Area, Los Angeles, Orange County, and San Diego, California; Bozeman, Montana; Charleston, South Carolina; Fulton, Maryland; Hagatna, Guam; Honolulu, Hawaii; Portland, Oregon; Burlington, Seattle, and Spokane, Washington. For firm information, visit coffman.com or follow us on Twitter, Facebook, Instagram, and LinkedIn.
Source: Coffman Engineers, Inc.
Share: